With the ICM component of this project underway, working and empowering me to reach the finish line, I decided to make some additions to the PComp side so the user is compelled to interact.
The project requires the user to speak into a microphone to record the new word that she just learned. I want to engage folks so will have a miniature Trinidad folklore character holding the mic, compelling people to say something. The character I will use if the Pierrot Grendade. A character that is a prominent part of our Carnival celebrations.
Pierrot Grendade – Is a scholar who boasts deep learning, and delights in an exhibition of his ingenious language. Tied to his costume are odd pieces of discarded tins and small boxes. A hat strewn with shrubbery and rags, and carries a whip. (ref: Cote ci Cote la Trinidad and Tobago Dictionary. by John Mendes)
In my drawing, he is seen holding the mic. His clothes are strips of rags and he wears a mask on his face.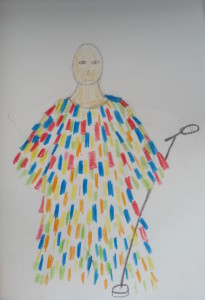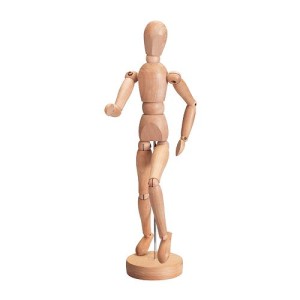 As a result my BOM and timeline were updated: